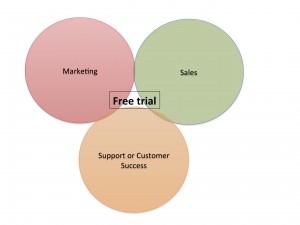 The free trial is a valuable marketing tool for SaaS marketers. But it's a two-edged sword. You can lose potential customers in the free trial if they don't find success or feel the love.
If you're in an engineering-driven company—one that competes based on feeds and speeds—you may see the free trial as an opportunity to prove how great your software is. "Let the features speak for themselves."
Reality is rarely so simple. Some prospects evaluate software rationally, with side-by-side comparisons, and make decisions based on features or function. Just as often, people sign up for a free trial before they're ready to buy, or use the free trial to get a better idea of what you do.
The best products don't always win. And the service isn't the only thing on trial.
In a free trial, prospects evaluate the experience of being a customer.
In SaaS businesses without value nurturing strategies, the free trial customer inhabits a no-man's land between marketing, sales, and support. The free trial user is not completely a prospect, nor completely a customer, but a little of both. That dichotomy leads to problems and misfires
The "Hard Sell" Trial
In some businesses, the free trial is the point at which a prospect becomes a hot opportunity. The sales team engages full tilt, and the trial customer experiences the equivalent of the used-car lot experience, with persistent emails and phone calls from sales reps.
Marketing can be just as guilty, starting a relentless drip campaign that pushes for conversion, again and again. In either case, the experience looks and feels, to the prospect, like a hard sell.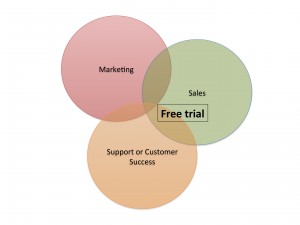 The Hands-Off Approach
At the other end of the spectrum, there are those businesses that treat the trial user like a customer, and that count on the superiority of their software to convert the customer. They assume that anyone who isn't happy will proactively reach out to support for help.
Unfortunately, you'll miss the free trial users who didn't know exactly what to do. This approach also puts the burden of conversion on Customer Support or Customer Success teams.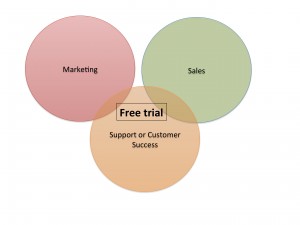 The Value Nurturing Approach
If you're committed to the long-term relationship, the free trial is when lead nurturing becomes value nurturing. The focus of the trial is demonstrating value while earning trust, so that a prospect becomes not only a customer, but a loyal and successful one.
In a value-nurturing organization, marketing works with other groups, such as Sales, Support, and Customer Success teams, to ensure that free trial customers are successful:
Providing training resources, videos, and/or drip campaigns to support customers
Watching the customer's online behavior and automatically triggering a campaign, an email, or a phone call if necessary, based on context
Offering assistance periodically during the trial, without pushing for a conversion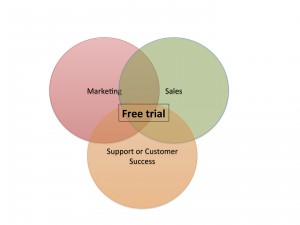 More about SaaS Marketing and Value Nurturing
This post is part of a series addressing the challenges of marketing Software-as-a-Service (SaaS). Read the first post: Subscriptions Are Eating Software.
The posts are compiled in a short ebook, Subscription Marketing for SaaS. If you work in a software company, download the ebook and let me know what you think.