The time has come to sink the 'synergistic' speak and show "industry-leading" to the back door. (If everyone's industry-leading, who is following?) A shift is underway in B2B marketing, starting with the writing voice.
The B2B voice is changing: from authoritative to conversational, from safe and stodgy to confident and authentic.  And everyone should rejoice, whether we're creating the content or reading it.
That was the message from Doug Kessler, speaking on the topic of "Writing with Mojo" at the B2B Marketing Forum in Boston yesterday. In truth, the entire conference exuded the new marketing voice.
In a visual sense, B2B mojo looks like this (as embodied by Ann Handley):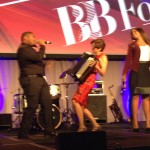 Not this: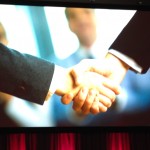 Where can you find examples of writing mojo? Look at at of Marketingprofs itself. Check out Velocity Partners. Or, as Doug points out, return to the the great works of literature. Tone and style are what draws us to great writers. We simply don't expect to find surprising or engaging writing in the workplace.
When I speak with people in marketing, it turns out that many are also writers. In their "other life" they write screenplays, short stories, or novels.
It's time to unleash that creativity and writing joy on the practice of marketing.