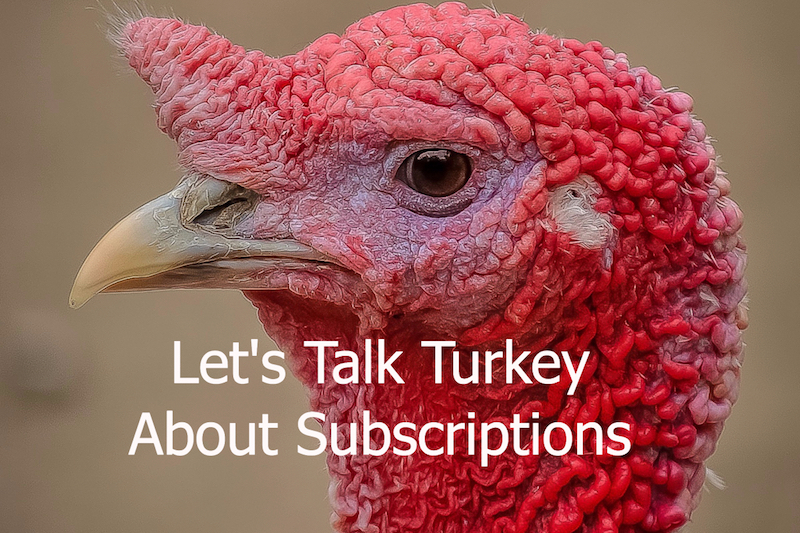 The phrase "talking turkey" means to speak frankly, so it's a perfect fit for this pre-Thanksgiving edition of the Subscription Marketing update.
Let's Talk Turkey: Subscriptions Are Hard
Zuora invited me to chat with their employees and customers at a Dreamforce-related event (on a rooftop bar, no less!) Zuora's events are always filled with people who really get subscriptions.
In speaking with Zuora sales people and customers alike, I realized just how hard it is to do subscriptions well – and started to feel a little guilty about not emphasizing that enough.
For example, I have suggested that subscription vendors offer their customers a chance to dial back subscriptions for a month or two. (See last month's post on subscription guilt.) But if you run that past any finance person, you are likely to see a grimace of pain. You want what? How do we recognize revenue?
Public organizations are under the gun to meet upcoming revenue recognition standards (ASC 606). So, casually suggesting the ability to ramp up and down or suspend revenues is like throwing oil onto a smoldering financial fire.
That's the thing about subscriptions – they affect every part of the business. Everyone has to get on the same page and work through the challenges.
Amazon's Knocking – and Letting Themselves In
A subscription relationship is based on trust. Well, Amazon is testing those boundaries of trust more than most subscription providers with Amazon Key. Amazon Prime subscribers can allow Amazon to actually unlock the front door and deliver packages inside. (You need a compatible smart lock, a camera, and a kit from Amazon to make it all work.)
Amazon Key addresses the problem of packages being stolen off doorsteps. Some customers will probably love it. And it's built on the premise of "trust but verify," as you can see images of what's happening at your doorstep.
Still … I'm not sure about giving Amazon the key to my home. What do you think?
Stop Threatening Customers with Subscriptions!
I'm getting tired of seeing companies use the threat of a subscription model to urge a fast sale. So I wrote a blog post about the subscription threat. Let me know if you're seeing this trend, too.
Interesting Reading and Courses
Words matter. The words you use reflect your mindset, which affects how you treat people. So writes Lincoln Murphy in this wonderful post: Those Aren't Problems. Those Are Customers! Once you read it, you'll use more care about how you talk about customers when they aren't listening.
Customer Service Orientation: To do subscriptions right, you have to deliver superior service, from start to finish. My friend Robbie Kellman Baxter, author of The Membership Economy, has developed a course for LinkedIn Learning on developing a service orientation. Check it out.
Subscriptions and holidays: Is this the year that holiday subscription boxes break out? Jim Fosina wrote an interesting article making that very argument here.
More Fun Subscriptions
Subscription Ramen: Take a hot food trend, put it in a monthly box, and what do you have? Subscription ramen – or more specifically, Japan Ramen Box, which ships ramen from Japan to anywhere in the world. If you're in Tokyo, you can sign up for Yaro Ramen.
Subscription Tweets: Twitter Promote Mode offers small businesses a $99/month subscription for promoted tweets. Instead of paying per impression or post, you pay per month. That's certainly a different spin on advertising. I'll be interested in seeing how it works. Read the TechCrunch article here.
UnderArmour: If you can't get enough of Under Armour, sign up for a personalized ArmourBox. Maybe after indulging on Thanksgiving turkey, you'll need to stock up on performance apparel.
That's all until December – who knows what puns we'll unwrap for the holiday season.