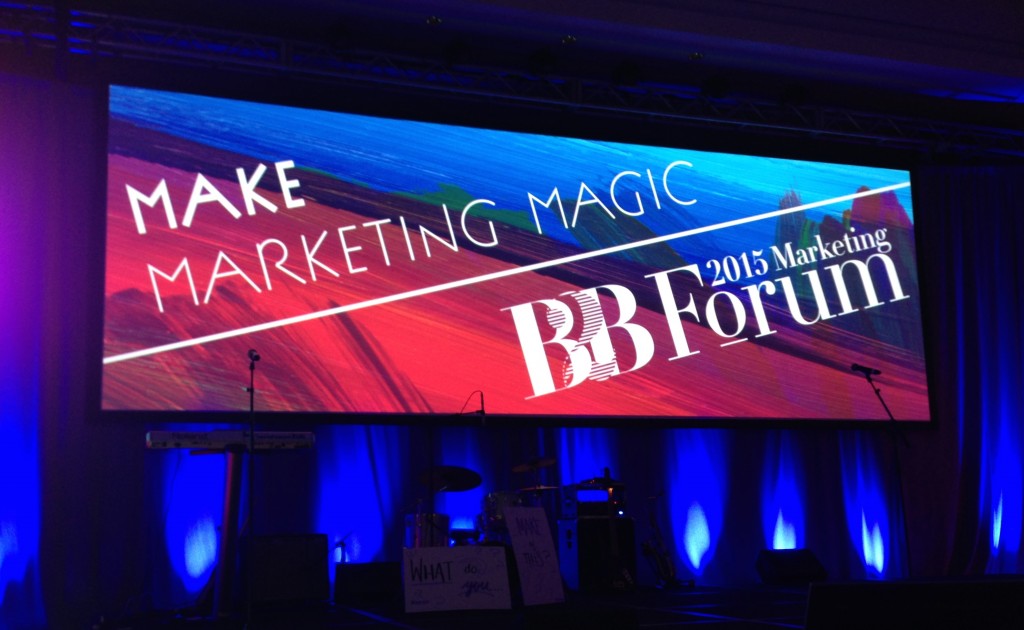 I have just returned from MarketingProfs' B2B Marketing Forum 2015 in Boston. The last time I attended was in 2007, back when B2B marketers were still puzzled by social media. I can't help reflecting on how much has changed.
Here are my personal, top take-aways on the state of B2B marketing, as represented by this gathering.
1. B2B is beyond being boring
To all of those marketers who wrinkle their noses at the B2B practitioners amongst us, I say "Fie!" (Well, I would if I were in a Shakespearean mood.)
The conference was filled with examples of entertaining, educational, and engaging marketing from B2B companies. In everything from clever copy to creative videos (such as Adobe Marketing Cloud and The Launch), B2B marketers are raising the bar with engaging content.
The conference itself was a meta example of creative B2B marketing. From the opening keynote, with anything-but-boring Avinash Kaushik to the closing keynote by Peter Sagal from NPR's Wait Wait, Don't Tell Me, and all the events and speakers in between, the conference delivered fresh and entertaining content.
To paraphrase Nick Westergaard in his session on branding, "You cannot play the B2B card" as an excuse to keep doing the same, predictable things. The rules are changing.
2. Smart marketers look beyond the sale
My subscription marketer's heart grew a few sizes bigger listening to Avinash Kaushik's opening keynote. He suggests that marketers define audiences according to their intents rather than psychographics or segments. Marketers need content and programs that map to four key intents, which he calls see, think, do, and care.
You don't serve up a free trial offering to someone who has no intention yet to take action (someone in the 'see' or 'think' stage.) And you match intent to social media channels, which align with different intentions.
As a subscription marketer, I'm particularly interested in the fourth intention: care. This belongs to loyal customers who have purchased from you at least twice (or, in a subscription context, renewed at least once.)
What Avinash Kaushik calls marketing for the care intent, I call value nurturing. Call it whatever you want – just remember that marketing has a role to play after the initial sale.
3. Empathy rules (or, we're getting over ourselves)
If there was one consistent theme across the sessions I attended, it was this: successful B2B marketers are able to see the world from their customers' eyes.
When you incorporate the customer's perspective in marketing, you know how to earn and keep attention. You understand the problems you are solving, and avoid "firehosing" people with the wrong information at the wrong time. You stay on top of changing perceptions, and adjust with the market needs.
Empathy is the new marketing imperative. (Empathetic people also make for fun marketing conferences.)
Share this on Twitter: Empathy is the new marketing imperative. #mpb2b
4. There's much more to do
One question kept popping up in many sessions:
How will we sell this back home?
Entrenched marketing practices and beliefs are difficult to displace. Doing what you have always done seems safe. But as more businesses adopt customer-centric, empathetic marketing approaches, staying stuck in the past is risky.
From Nick Westergaard's session on branding: "Transparent, simple brands move faster and gain trust." And trust may be the most important asset in today's economy.
5. Personal connections trump digital ones
Technology plays a pivotal role in today's marketing world, with videos, social media, inbound media, metrics and tracking… the list goes on and on. Conferences like the B2B Marketing Forum offer marketers a chance to keep up with those changing technologies.
But, as Sherry Turkle so eloquently stated in her keynote:
"Technology makes us forget what we know about life."
And what we know is that personal connections matter.
In our attempt to craft the perfect message, or create the ideal digital brand, we cannot afford to lose sight of the human connections.
Conferences are a chance to convert online acquaintances into in-person friends. The B2B Marketing Forum delivered on that premise in spades.
I'll close with my favorite quote from the conference, from Mark Schaefer's presentation on the Content Code:
"What if we focused on building trust instead of traffic?"
It's a brave new world of B2B marketing.