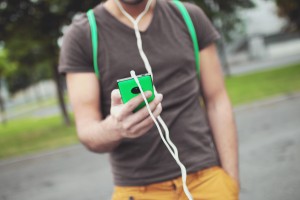 Nearly everyone in the gym is listening to something on a mobile device – a podcast, an audiobook, streaming music. Most of the solo drivers you see stuck in traffic are listening to something as well.
Mobile devices are changing our behaviors in many ways. Even something as basic as reading a book is up for grabs in the increasingly mobile world.
Mobile devices tap into our attraction to multitasking. When we're out and about, we often need to look where we're going. Hence the growth of audio content consumption, such as podcasts and audiobooks.
According to Edison Research, 55 million Americans listened to an audiobook last year.
From the Infinite Dial 2015 report (by Edison Research and Triton Digital), monthly audio podcast consumption is on the rise, from roughly 39 million monthly podcast listeners a month in 2014 to 46 million monthly users in 2015.
Audio works particularly well for long-form content, like books, because we have stretches of time while commuting or walking that we can devote to books.
Subscription Marketing as an Audiobook
The only data that really matters is how your audience like to consume content. Chances are, your audience listens to podcasts and audiobooks.
I didn't think about creating an audio version of the book Subscription Marketing until a potential reader told me that he only 'consumed' business books in an audio format. Now it seems obvious.
So, at last, Subscription Marketing is available as an audiobook:
The Subscription Play (of course)
I wouldn't be a genuine subscription marketer if I didn't point out the subscription service in the mix, Audible.
As an Audible customers, you can purchase books outright or you can become a subscriber. As a subscriber, you access one or two books per month (plus a free book to get you started.) If you want to listen to more than your allotted amount,  you can purchase the additional books at a discount.
Your first book is free with an audible subscription – you could make Subscription Marketing your first. Picture it: you're listening to a book about marketing for a subscription-based business while using a subscription-based audio book service.
Do You Want Written Words With That?
The problem with listening to a book – and particularly a nonfiction book – is that you may not remember the important points you want to take away. Taking notes isn't practical  when driving or at the gym.
So I've created additional, printed resources for audio book buyers, on the book's website. So far, these resources include:
A document research and graphics from the book
A value nurturing checklist
The list of recommended reading in the end material of the book
An infographic illustrating one of the chapters (the four fundamental rules of value nurturing)
You can see these items by visiting subscriptonmarketingbook.com/resources and entering your email address. This signs you up for my very low-volume email list. (Honestly, I send something new around about twice a month.) And you can unsubscribe at any time.
Here's my question to you: if you're listening to a business book, what resources would you want to be able to access in printed form? What, if anything, should I add to this list?
Let me know if you have any suggestions, by email or in the comments here.
Image: Jan Vasek: stocksnap.io