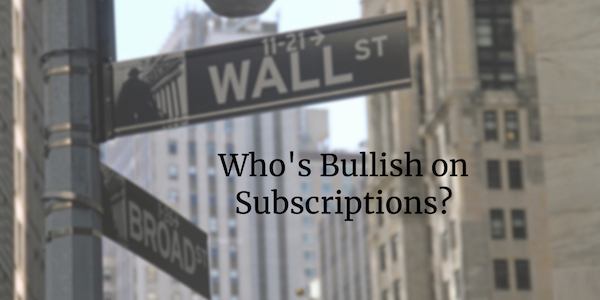 Welcome to April. It's time for another subscription marketing update – and the Subscription Economy has been making the news lately.
Subscription IPOs are Well Subscribed (ooh, play on words!)
Zuora started trading on the New York Stock Exchange on April 12. While it's too early to predict how the stock will do over the long run, this company is more attuned to the Subscription Economy than any business I know.
My favorite story of IPO day comes courtesy of Twitter. (I know, Twitter.)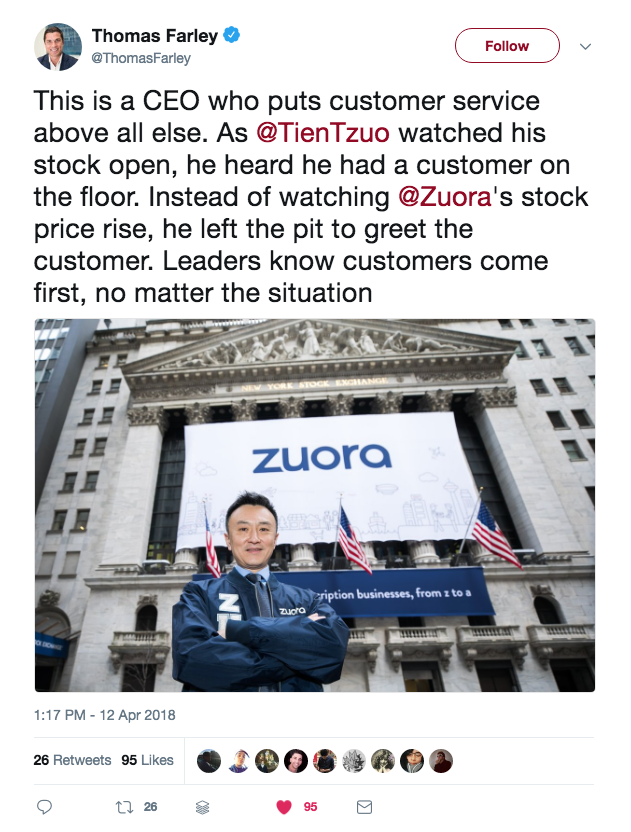 Zuora understands that to drive the numbers, you must focus on people. Subscription revenue arises from human experience.
In other market news, Spotify (subscription music service) shook up the financial markets with its IPO, valuing the service at $30 billion. Always an innovator, Spotify didn't use the IPO to raise capital; it merely listed existing shares on the market. Oh, and it announced that it has twice the number of paying subscribers as Apple Music.
Subscription E-Commerce Market Research from McKinsey
For some interesting trends into e-commerce subscriptions, check out the latest McKinsey survey:
More subscribers are women
Men are more likely to have three or more active subscriptions.
Everybody loves Amazon
McKinsey breaks down the core "Why" behind these subscriptions into three categories: replenishment, curation, and access. That's an interesting way to think about the services you offer.
My favorite bit of advice is to focus on the experience: "Recommendations often trigger subscriptions, but consumers cancel services that don't deliver a superior experience."
Read more about the research here.
In Other News, There's This New Business Model … 
An article in The Economist champions this exciting new development in business – subscribers.
In the context of all the other news about the growth of the Subscription Economy, and subscription-related IPOs, I can't help but chuckle. The implication in the article is that the subscription model is uniquely American: "A first sign of trouble could be that there are not enough Americans to satisfy them all."
Read the article here: Subscribers are the new, new thing in business
Procrastinators, Rejoice
It's not too late to enter the Content Marketing Awards. (I'll be judging, so let's see some good stuff to inspire future posts!) The regular submission deadline is April 20, but you can sneak your entry in by the late date of April 27th.
Upcoming Subscription-Related Events
May 22, New York
Subscription Insider's Payment Bootcamp
May 30-June 1
SUBTA's Subscription Summit 2018 – My friend Robbie Kellman Baxter will be speaking at this subscription box conference.