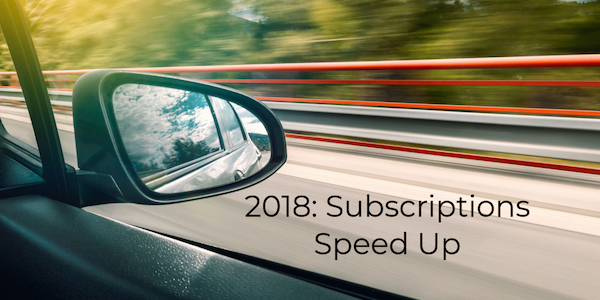 It's the first monthly round-up of Subscription Marketing news for 2018 – and I have a feeling that this year is going to be a doozy.
The pace of change seems to be accelerating with each passing year, although perhaps that's because I finally got around to reading Thank You For Being Late by Thomas Friedman over the holidays. (The irony of waiting a year to read it has not escaped me.)
But when it comes to the Subscription Economy, let's look around for a moment and see where we are, in January of 2018.
In the Rear View Mirror: The Holidays
Subscriptions made big strides this holiday season.
First, my personal data point. After writing about the pros and cons of gift subscriptions, I went ahead and gave subscription gifts to my own family:
To my son, a New York Times digital subscription
To my daughter, a year's subscription to the Big Idea book club
To my mother,  a subscription to her favorite source of foreign television mysteries, the MHZ network
They're all media (although the book club ships physical books.) We'll see how much the recipients like them over time.
But Amazon gave itself the gift that keeps on giving – more subscribers.
According to Amazon's press release, over the course of a single week, more than four million people signed up for Prime memberships.
Four million!
Remember that Amazon shoppers who are Prime members buy more from Amazon than those who aren't. Each of those new members represents not only the membership fee, but ongoing sales. This is a great start to the new year for the company.
You may be wondering how many people signed up for trials (to get the free shipping), and won't convert to paid members.  No doubt, some. But Amazon is masterful at enticing subscribers to stay. My money is on them having a good conversion rate.
Where We Are Right Now
On one morning this week, people contacted me from France and Brazil about the practices in my book, Subscription Marketing. Add that to the success of the Japanese language edition of the book, and something's happening globally.
Want to read about subscription marketing in French? Here you go.  Now I know how to say value nurturing in French (nourrir la valeur).
Every day I see great examples of companies doing value nurturing. For example, TripAdvisor sent a video, which it personalized, about the impact of the reviews I'd written in 2017. There's a good use of customer data. Here's my video.
Plus, the volume of news about subscription businesses is simply getting to be more than I can filter. Subscription Insider does a great job of collecting and curating this, by the way.
But, I've put together a few things to check out. So, pour yourself a cup of subscription coffee (Blue Bottle At-Home?) and look/listen to this list:
An investor's perspective on the Subscription Economy – Nihil Basu Trivedi of Shasta Ventures is a guest on the Zuora Subscribed podcast.
Subscribed Podcast: Nikhil Basu Trivedi on D2C Subscription Businesses
The Rise of Subscription Boxes: What Makes Us Sign Up? This post talks about fashion boxes, but really, the behavior applies to all kinds of subscription retail.
15 SaaS Retention Strategies and Subscription Renewal Best Practices. Check out this meaty, strategy-filled post from Barry Feldman.
Subscription Marketing: 2nd Edition. In case you haven't read it yet, this represents my best advice about subscriptions. I'm experimenting with Amazon's suggested pricing, which means that you can get the Kindle version for $3.49. Yes, apparently that is the optimal price for that book. Who am I to argue with Amazon?
The Road Ahead: Events in 2018
Get out your calendar and see where these upcoming events might fit:
March 12-13, New York
The lineup for this event in March looks fabulous, with speakers from Match.com, Book of the Month, ZipCar, and McAfee all sharing their subscription lessons.
May 30-June 1, Denver
This is the annual conference for subscription box companies, hosted by the Subscription Box Trade Association (SUBTA).  Early bird pricing ends soon.
June 7-8, 2018, Campinas/SP Brazil
This is Latin America's biggest SaaS event.
What's Your Next Move?
Without predicting the future, I can safely say this: standing still is not an option. If you're not yet offering subscriptions, you'll probably need to. And if you are, you'll need to up your game, adding value to the subscriber experience, to keep ahead of an increasingly crowded field.
What are your plans?