Getting Your Brain in Gear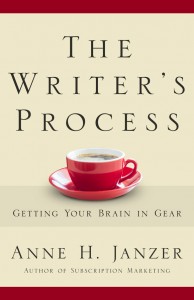 Writing is an intensely personal act, yet all writers face similar problems related to focus, procrastination, creativity, and productivity.
This book combines the field-tested practices of successful and productive writers with insights from cognitive science. By understanding how your mental processes affect the work, you can master the inner game of writing.
The Writer's Process is a practical guide to finding your best writing process. Topics include
How to invite your brain to work when you're not actively writing
Why writing is like baking bread, with many steps including periods of incubation
How to structure your surroundings for each phase of the writing process
---
What Others Are Saying
"Finally someone has taken the cutting edge research in cognitive science and applied it to the craft of writing. Anne Janzer's The Writer's Process will give you practical advice on how to beat resistance and get your writing done."
Tim Grahl
Author of Your First 1000 Copies
---
"Creativity isn't a mystery and neither is writing. The Writer's Process gives readers a clear-cut process to distill their ideas and get them down on paper more quickly…but also more powerfully."
David Burkus
Author of The Myths of Creativity
---
"If you've ever struggled with getting your ideas out of your brain and onto something others can access (and who hasn't?), Anne's book is for you."
Ann Handley
Author of the WSJ best-seller, Everybody Writes (Wiley)
---
"This is a fantastic guide for anyone who struggles to get words on paper, and that includes most of us. Writing is not a process that comes naturally to everyone so if you want to make it easier, you need this book. Highly recommended!"
Stephanie Chandler
Author of The Nonfiction Book Marketing Plan,
Founder of the Nonfiction Authors Association
---
"If I had Anne Janzer's Writing Process 40 books ago, I'd probably have written 80 books by now. There are a lot of good books about writing out there, but this is the first to realistically offer assistance based on writing in partnership with your brain, not in opposition to it."
Roger C. Parker
NY Times-recommended design author,
Top-performing blogger on Content Marketing Institute Blog
---
The Writer's Process will be published in June 2016. Watch this space for more, or contact me about joining the launch team.
Preorder the Kindle version today: