Thanks everyone for your support during the second edition launch of Subscription Marketing. For about a week after its launch, the book was the #1 New Release in Business Marketing on Amazon – and I've got the screenshot to prove it: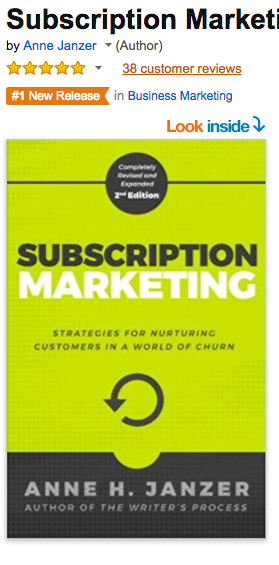 But like all good things in life, Amazon fame is fleeting, and someone else has that #1 spot. Now it's back to enjoying the ever-changing subscription landscape.
Happily, there's a lot going on.
Adding Value through Purpose
While Uber continues to have image issues, Lyft is kicking up its value nurturing a notch by announcing the "Round up and Donate" campaign. Acting on shared values with your subscribers is a powerful value nurturing tactic.
Once you opt in to the program, Lyft will round up fares to the nearest dollar and donate the difference to social good campaigns. It will be interesting to see how this plays out.
Plus, I love the wordplay involved, as they ask you to "Sit for something." Read about it in the Lyft blog.
More Subscription Businesses
Subscription accommodations? Thanks to Subscription Insider for surfacing Stay Awhile, a membership, a self-described alternative to hotels and Airbnb.
Indie books! This one is near and dear to my heart: Indie Connect offers independently-published books (in this case, fiction) delivered via subscription box. You can simply order the books, or sign up for a recurring order.
Magazines, in an app: The Texture app aggregates and distributes magazine, via subscription. The company ran a full page ad in the New York Times recently highlighting its featured publications, with the headline "Build your own wall. And keep fake news out."
Last Call for Content Marketing Awards 
The deadline is almost past for submitting your work to the Content Marketing Awards. I'm judging again this year, and love seeing the entries. There's a "late" deadline of April 28th, so enter now.
Upcoming Events for Subscription Marketers
May 4th in Palo Alto: I'm talking at the San Jose Hubspot User Group (HUG). The title:What Happens When You Reverse Engineer Inbound Marketing and Start With Delight?
May 8 in New York: Subscription Insider Payment Bootcamp East
May 31-June 1, Austin Texas: The Subscription Summit – the conference for Subscription Box companies.
June 5-7 in San Francisco: Zuora Subscribed conference
---
If you'd like to get this monthly update by email, sign up below.