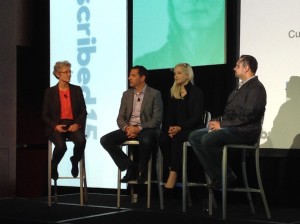 Contact me if you're interested in setting up a talk for your conference, company, or writer's group.
Speaking and workshop subjects include:
Marketing for subscription-based businesses
Optimizing writing productivity
Writing in the workplace
Book marketing for authors
Workshops and Coaching
With blogging and content marketing, nearly everybody is expected to pitch in writing in today's workplace, from the C-suite to the engineering team. But not everyone is comfortable with writing.
It can always get better.
My writing and coaching practice combines deep research into the inner processes of writing with decades of practical experience.
I work with teams of engineers, product managers, or marketers to improve their writing processes. Contact me for information about workshops, team coaching, or individual coaching for employees.
Workshop/Coaching topics include:
Writing effective blog posts – for engineering teams
Productivity for content marketing teams
Effective communication for techies
---
Talking about Subscription Marketing
"What Happens When You Reverse Engineer Inbound Marketing and Start With Delight?"
View the replay of the Facebook Live session below. (Audio starts at around the 20 minute mark.)