I'm on a mission to help writers be more effective (and happy) in their work. One way I do that is through individual and small group coaching and workshops for:
Nonfiction book authors
Workplace writers
Nonfiction Book Workshops and Coaching
Whether you need help finding and refining your book idea, creating a plan to get the work done, or setting up a viable marketing strategy, I can help.

I offer coaching and small group workshops for nonfiction book authors (and prospective authors).
Coaching packages include:
Regularly (weekly) calls to step through the process
Optional manuscript critique
Contact me for information about coaching programs or upcoming workshops.
Nonfiction Books: Developmental Editing
Sometimes authors need a fresh set of eyes and outside help to create a book structure that best serves their audience. Contact me if you need another perspective on your book's overall structure and approach.
Workplace Writing Coaching and Workshops
What would happen to your career if you wrote more fluidly and easily, or if your written work was valued and effective? What if you simply did more writing?
My writing and coaching practice combines deep research into the inner processes of writing with decades of practical experience.
I work with teams of engineers, product managers, or marketers to improve their writing processes. Contact me for information about workshops, team coaching, or individual coaching for employees.
Speaking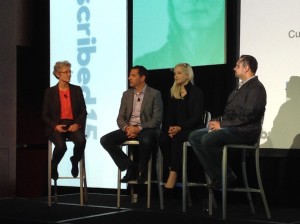 Contact me if you're interested in setting up a talk for your conference, company, or writer's group.
Speaking and workshop subjects include:
Writing: balancing creativity and productivity
Marketing for subscription-based businesses
Writing in the workplace
Book marketing for independent authors
Talking about Subscription Marketing
"What Happens When You Reverse Engineer Inbound Marketing and Start With Delight?"
View the replay of the Facebook Live session below. (Audio starts at around the 20 minute mark.)